When SCANDAL announced their European tour, I noted that three of the dates were to be on Saturday, which meant there was a fair chance of attending them. I had unfortunately run out of holiday dates for this year to even contemplate following the lasses around the continent.
The first date of the aptly hashtagged #SCEU2016 tour was at the Melkweg in Amsterdam, a city which I have not been to for 12 years. Accommodation was expensive to say the least but I got myself a room near the Centraal Station. It has a direct tram line to Leidseplein where the Melkweg is. Met up with Ikimaru-kun and we proceeded down to De Pijp for lunch at an Indonesian eaterie called Sari Citra. It was 3PM and we decided to make our way to Leidseplein.
As we were heading down this lane leading to the venue, I saw what looked like a family taking photos (or videos) and I swerved behind the cameraperson so as to not get into the shot. I then heard a long 「エェェェー!!」(transl. Eeeehhhhhh…..!) from Ikimaru.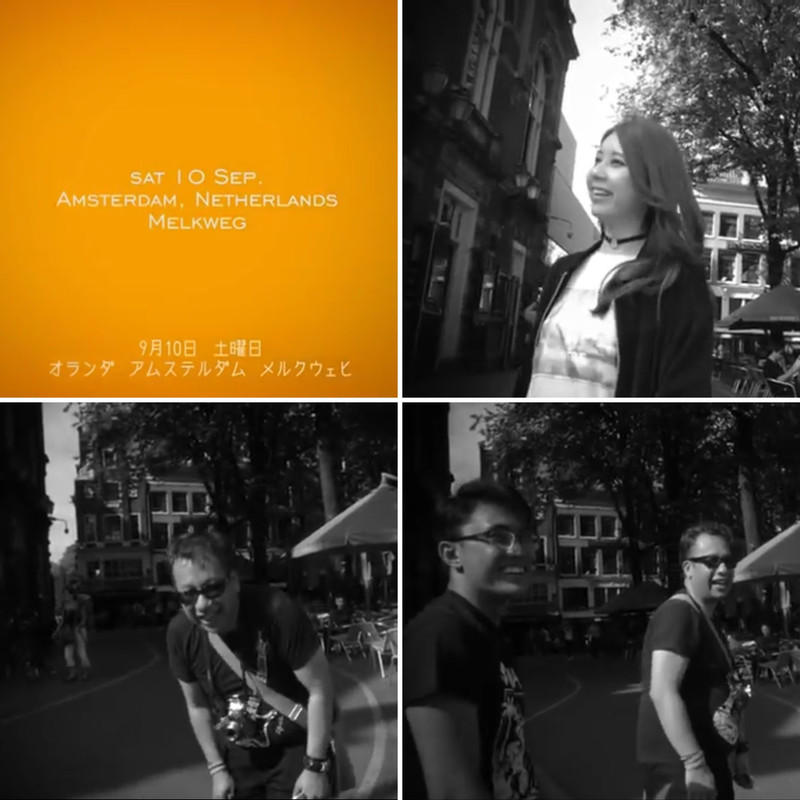 I turned round only to see that the "family" was TIMO, Nakajima Shin (SCANDAL's official photog) and another member of staff with a DSLR. I was like, uhh… 「エェェェー!!」as well. TIMO was pointing to Ikimaru's SCANDAL T-shirt when we walked by which prompted him to do the double take. Seeing two unsuspecting fans going 「エェェェー!!」 was prolly funny which prompted some laughs. I said konnichiwa to her, and as it appeared that the video shoot was work, we excused ourselves with a mata nee and continued on to the Melkweg. At the corner of our eyes, TIMO and her staff were also walking back. We did think of asking for a photo op but decided against it. Actually to this day, I am still wondering if we should have actually asked! Oh, well. The bonus thing to this though after they entered the Melkweg, the camera lady came back out and did a video interview with us.
Alas, the interview was not included in the DVD documentary that came in the 2CD+DVD Limited Edition version of SCANDAL, but surprisingly our encounter with TIMO was! You may check it out here.
The queue comprised a rag tag of fans with the the SCANDAL FRANCE bunch nearest to the door (they've been there since 7AM). Said hi to Baba-kun, since he is the only one I know personally from the bunch. It was sunny but there was a light cool breeze from the nearby gracht and we sat ourselves down in front of the sign which provided us with some shade. People started to straggle in by half four or five and it still felt that there were 40-50 people at the most. Up to the point of entering the venue there was still no clear organisation of the crowd (unlike London) but I can see with the number of people present there was no real need. Also, once in the annex of the foyer, security was only letting in people with VIP tix. In hindsight, we should've gotten behind the French fans as soon as since we were there early enough[1]. We were ushered into the concert hall which was pretty small and prolly could hold 300 pax max. There were no barriers and it seemed the punters could stand right up to the stage.
At about 7PM, SCANDAL came out for the high touch[2]. The sesh then begun and RINA was the first one. I kinda greeted her by praising her as a スパーDRUMMER only to see her responding with a bashful ありがとう. I don't know why but I keep welcoming HARU to whatever city the band's playing at while high fiving her. MAMI appeared impressed that I was wearing her tee design for the SCANDAL 2nd Shop. And as for TIMO, she remembered me and Ikimaru from before, and we gave a repeat performance of us going エェェェー!!… oh, well. That was fun. After the sesh was all over for all, I parked myself just stage left of HARU's mic stand towards MAMI, as I remembered that I was too much to MAMI's left in 2015. As we didn't catch up with the French fans earlier, we were essentially second row, but with the chap in front of me was thankfully smaller than I was and with him literally at the edge of the stage, I don't know how much closer I could be to the band! As this was the first ever show, none of us had an inkling to what the set list was gonna be. However, right in front of us was the set list taped to the stage floor. I refused to look at it nor was I interested in the conversation between the punters who were reading the list in front of me.
The gig kicked off at half eight prompt with SCANDAL coming onstage in their oversized tees performing the instrumental intro from YELLOW – the eponymous riff-laden Room No.7. I like the song but I really wish MAMI would solo over it. TIMO was rocking her navy blue Precision Special whilst HARU and MAMI were on Skullsilver and the "Mamicaster", respectively. Next came Stamp! followed by the English rendition of the Green Day-esque Your song. There was no real pause in between the songs and off they went into Onegai Nabigeshon, pretty much one of my fav tunes of all times. I was so glad this came out pretty early in the set. HARU did the usual MC of introducing themselves collectively and introduced the next song as being from their current album, and we were treated with LOVE ME DO. The backing "Here we go!" that RINA messed up on during SCAFES was a tad inaudible from where I was and the song nevertheless still sounded pretty much good to me. HARU and MAMI had switched to their Tele Thinline Deluxe and Pelham Blue Les Paul. I think we can safely say that the white Stratomaster has had its day perhaps. I've not seen her use it since the HELLO WORLD Hall Tour! Sunday Drive and Pizza Party were performed next, pretty much making this a YELLOW segment all the way.
It was the usual towel-swirling moment next for DOLL, but mostly from the front row. HARU switched to her Yamaha acoustic and I have to admit that I was slightly disappointed that they played Sisters, but that was to be expected I guess. After another MC, things were still on the mellow side with Morning Sun but that didn't last for long when MAMI and HARU faced off in the middle of the stage for the intro to Take Me Out. This song is currently way up there with Onegai for me and I couldn't help going a tad apeshit during this. SCANDAL was really relentless as we hardly could catch our breathe from that one when they launched into Awanai. MAMI unfortunately cocked up the guitar riff at the end of the song but we were all going 大丈夫だ![3] to which she smiled and bowed her head ever so slightly in acknowledgment. This wasn't the first time that MAMI had a little trouble on set, as her guitar sound was somewhat low when she switched to her LP during LMD which prompted Motchy (her guitar tech) to adjust her levels on the Marshall head. Anyway, all was forgiven as she would always stand right at the edge of the stage right in front of where I was during a few of her guitar solos!
I've not heard LOVE SURVIVE live for the longest time as it was 2013 when I heard it last. I have to say the obligatory OI! OI! OI! chant goes well with a lot of fast SCANDAL songs and LOVE SURVIVE was one of 'em. The non-stop machine was still on and it was ESY and Taiyō SCANDALOUS next. I wasn't complaining really but I have to say this level of performance was expected in a band that had gone on playing live for a decade. I really liked Image from HW and they played this as the penultimate song of their main set. This is actually one of their fastest songs in their repertoire despite of how it sounds! Bringing the main set to a close was the poignant Chīsana Honō. Concerted shouts of en-ko-ru! (with an added Malaysian slant by two members of the *koff* audience) and the lasses came back onstage clad in YELLOW tees (that's not-so-subliminal merch advertising, if I should say so myself hehe).
RINA started a drum beat with the guitars and bass joining in bit by bit for what seemed to be the "surprise" in the set as alluded in a few IG vids (and a tweet by their manager, Eisuke) – a free jam. Of sorts. I loved TIMO's flange-tinged bass tones in this and HARU went on to solo for a bit herself. A hint of this was already seen in the solo segment in Shōjo S at this year's Budōkan shows. It was good to see them do this, and I was impressed but only because this was something that I personally feel was beyond their comfort zone. They have improved in leaps and bounds, becoming song-smiths so as to have an album wholly composed of their own material et cetera, but I am yet to see any form of spontaneous improvisation in their playing which did not feel contrived. They'll get there but I didn't see it yet that night. To end it all, SCANDAL BABY was an apt tune for us punters to sing along, especially at the chorus. And of course, to see MAMI and TIMO do their usual thing to distract HARU in the middle segment of the song.
I've awarded a lot of pluses for this show, which includes points for their intensity of their performance (I had joked that their recent post-SCAFES vacation had done something to them) and the close proximity the audience had with the band. And that's not including the lil' extras that I got along the way (like the chance meeting with TIMO and the video interview)!
Next show for #SCEU2016 – Vienna!
Flickr set of the gig here.
Melkweg, Amsterdam 10.9.16 set: Room n°7 / Stamp! / Your song -English ver.- / お願いナビゲーション / MC I / LOVE ME DO / Sunday drive / 今夜はピザパーティー / DOLL / Sisters / MC II / Morning Sun / テイクミーアウト / 会わないつもりの、元気でね / MC III / LOVE SURVIVE / EVERYBODY SAY YEAH! / 太陽スキャンダラス / Image / MC IV / ちいさなほのお // [ENCORE] 「セッション」/ 少女S / SCANDAL BABY
_______________________________________________
[1]This was rectified at the next gig in Vienna.
[2]This is wasei-eigo – a Japanese "English" word 「ハイターチ」for high five.
[3]Daijōbu – (transl.) that's fine.
This gig review was originally published in 無秩序の胃 on 11.9.2016.